Yoga walk with dog Sunday 20 sept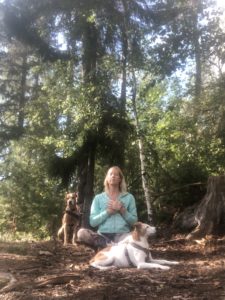 Now, as a yoga teacher and nature lover, I am launching a completely new concept that will be great fun to test! We walk together with our dogs and take breaks from time to time as we do beneficial and strengthening yoga exercises (standing) together. We do breathing exercises and take in the healing energy and magic of the forest. In total, there will be about 30 minutes of yoga.
We hike in the amazing Tarzan mountains near Tosseryd. We will make a coffee stop towards the end and a short meditation together.
Research shows that just being out in nature for 20 minutes lowers our levels of stress hormones in the body. Combined with really landing in our bodies in different yoga positions, consciously using the breath, this becomes a very powerful and strengthening walk for body and soul! Our dogs are also involved, which makes it a wonderful experience together.
You are also welcome without a dog, but of course it is good if you are not afraid of dogs? You do not need to have any previous yoga experience!
Equipment:
Clothes for the weather for you and your dog, but feel free to take something that has a loose fit so that you can stretch your body. Good shoes and something to sit on as well as your own "fika". The dogs on a leash for the sake of simplicity.
WARM WELCOME!
Time:  16.00-18.00
Investment: SEK 150 / person Sign up to jenny@soulplanet.se Swisha SEK 150 to 1231838853 when you sign up! Limited number of seats.
We gather at Räfseryds gård at Borås Norra infart (stop Däckvägen) Parking is available!